Would you like to reduce the stress of your heirs when you go, or want to downsize or determine what your kids wish to keep? Try our FREE downsizing software.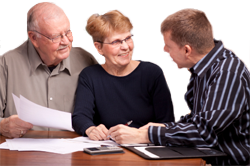 FairSplit provides the tools you need for a fair and easy way to show and divide your heirlooms and possessions among those you love. It's simple:
FREE Downsizing Software Features:
Transparent and inclusive private, secure account allowing all parties access to the information
Add photos and appraisals to items as needed, or start with tagging photos to create the list
Organize and sort by room, category, value, distribution (who gets what?, sell, donate, keep, etc.)
100% online access, so parties do not have to be present to be fully involved and included
Several blind, impartial methods of division are used that incorporate Emotional and Monetary valuations for the parties.
Survey to assess the biggest concerns of the parties and tailoring the division to address those
You may simply provide a link for your clients to use directly or you may serve as Administrator as part of the services you offer your clients
Full Reporting by Categories, Heir Ownership, Move, Keep, Sell or Donate full reports
Customize each family section with a photo or saying meaningful to the family
Make the results known at the time, or simply use it as a guide for your own estate planning and for guidance on what to bequeath, sell or give away.